Are you an Auxiliarist who holds clergy credentials and want to support Religious Ministry programs in the Coast Guard
Friday, June 23, 2017
Posted by: admin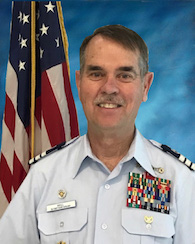 The Rev. Dr. Charles "Doug" Kroll
DVC-HH, Clergy Support
The Auxiliary Clergy Support program supplements and supports Navy Chaplains serving with the Coast Guard by expanding Religious Ministry within the Coast Guard to better meet the needs of Coast Guard members and their families.
Coast Guard Chaplains (officers of the U.S. Navy Chaplain Corps assigned to the Coast Guard) provide Religious Ministry to Coast Guard members. They play a vital role in support of overall mission execution of the Coast Guard. Due to the limited number of Coast Guard Chaplains, they may be prevented or delayed in the timely response to Religious Ministry requirements.
The Coast Guard (CG) recognizes that the CG Auxiliary is composed of many skilled volunteers, some of whom have clergy credentials. The Auxiliary Clergy Support Program expands the Religious Ministry capacity within the Coast Guard to better meet the needs of Coast Guard members.
The Clergy Support Program does not supplant Coast Guard Chaplains, but supplements and supports their mission. Clergy Support Auxiliarists serve under the direct supervision of their designated Coast Guard Chaplain and must coordinate and report all Religious Ministry support to that Coast Guard Chaplain.
Auxiliarists with clergy credentials must meet many of the same qualifications as members of the Navy Chaplain Corps, which are described in COMDTINST 1730.5. The Chaplain of the Coast Guard (CG-00A) administers the Clergy Support Program and its associated qualification and training requirements.
If you are an Auxiliarist who holds clergy credentials and want to support Religious Ministry programs in the Coast Guard supervised by Coast Guard Chaplains you can obtain more information by contacting: DVC-HH Kroll
 Link to COMDINST 1730.5
Comments
Leave a Comment